On the anniversary of the very first Doctor Who broadcast, it's only right that we have a Doctor Who review!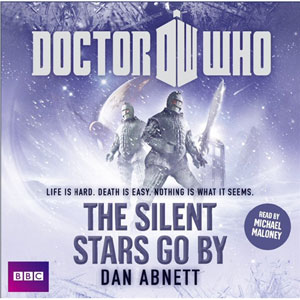 This, latest Who novel from the amazing writing machine that is Dan Abnett, and reviewed here in its audiobook form from
AudioGo
, is ostensibly a Christmas tale.
But it isn't really. Yes, most of the story takes place in the cold and snow and the book and chapter titles are all taken from hymns and carols. Yes it begins with the Doctor attempting to take Rory and Amy home for Christmas. But apart from all that it's not Christmassy (Christmas-esque?) at all.
What we do get, as you will already have figured out by the cover, is Ice Warriors.
Ice Warriors are great. They are not your normal Who villains in that they are not really 'bad' at all, in fact they have appeared as 'good guys' as well as 'bad guys' in the original series. This is something that Abnett makes good mileage out of too – there are some nice scenes with the Doctor and the Ice Warriors discussing the morality or 'honour' of their actions.
There are some nice moments as the Doctor refers back to his previous encounters with the Warriors, which impressed me as to Abnett's knowledge of the show. No mention, though, of the recent
Eighth Doctor encounters with the Ice Warriors
in the Big Finish range..!
Abnett throws in some good surprises too. He builds well on the expectations the reader will have for an Ice Warriors story, even feeding these expectations in places, but he also provides a marvellous plot twist in the final act.
As I have mentioned him again, we should talk about Dan Abnett for a moment. He is perhaps best known for writing countless novels set in the Warhammer 40,000 universe, as well as creating for 2000AD comic the series Kingdom and Sinister/Dexter.
Both of these series showcase brilliantly the very best things about Abnett's writing: his ability to plot and his love for the (sometimes painful) pun and the sheer fun he has with his wordplay. There is a lot of that sort of thing in here, and most of it plays a clever part in the plot too.
It also struck me about halfway through listening to this that the production on the audiobook was wonderful. The use of sound effects and incidental music to enhance the mood was very clever. And then I realised that there were none of these things on there. No, any feeling of excitement felt by the listener can be placed squarely at the feet of both Abnett's writing and the peerless reading by Micheal Maloney.
I tend to judge these audiobooks by the 'Amy' voice, and Maloney's Scottish accent is pretty good, as is his Doctor. But it is Rory that he does best, at times sounding a dead ringer for Arthur Darvill. This is helped, naturally, by Abnett's bang on writing of the characters.
This is great.