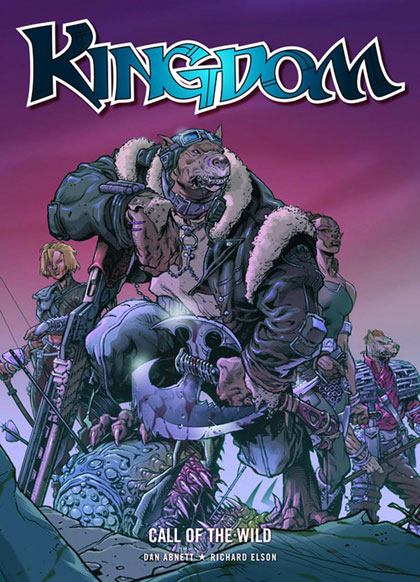 Seriously folks, Kingdom is one of the best new comic strips in the past five years, we urge you to buy this book!
Now, here's the press release:
In the post-apocalyptic future, genetically-engineered animals fight giant insects to preserve the future of the world!
From the pages of legendary British comic book 2000 AD comes Gene the Hackman, the pack leader turned lone wolf who battles Them, in a new 144 page collection!
These gargantuan insects have swarmed across the planet and forced mankind into cryogenic slumber in the hope that their dog soldiers can fend off the invaders.
With his human companion, the young girl called Leezee Sower who he saved from certain death, Gene must now learn to survive in the kingdom of Auxtralia, where if Them don't kill him, the 'Wild Bunch' might just!
In the sequel to the hit collection Kingdom: The Promised Land, New York Times bestseller Dan Abnett (Majestic, The Authority) again teams up with artist Richard Elson (Thor), for an explosive mix of hardcore action and dystopian sci-fi.