The previous Big Finish adventure, Resurrection of Mars, was very much the widescreen, big budget climax of this particular Eighth Doctor story arc. It tidied up a lot of the hanging storylines very nicely, while leaving enough in the air to keep the listener wanting more.
Relative Dimensions though, while not following on from Resurrection as such, provides a lovely epilogue for the series, and also (something I only tumbled to halfway though listening) is a superb bookend to this run set, as it is, at Christmas, as was Death in Blackpool.
And like Death in Blackpool, and being set at Christmas, this one also deals with the same sort of subject matter: family.
This time round though, it is the Doctor in the spotlight, as his grand-daughter Susan comes round for Christmas dinner….
It was brilliant to hear Carole Anne Ford as Susan again, and it's amazing to me that she is 70 years old! She sounds exactly like she did all those many years ago (not that I was around, of course…), and Jake McGann, Paul's own son, as his great-grandson is also very good, sparking nicely off his father playing his grandfather… you know what I mean!
McGann's Doctor gets some nice character stuff here. I always enjoy the tiny peeks we get into the Doctor's mind and the brief glimpses we get of his motivations and the guilt and loneliness that drives his actions. There are some scenes of genuine poignancy, and I'm pleased to say that the rather bittersweet ending is not the one I thought I saw coming.
That's not to say that this is a maudlin piece full of angst and misery- anything that features the Doctor riding the back of a giant multi-dimensional space fish cannot be described as dull!
The Switching
This short story is one of the extras that subscribers to the Big Finish Who series are lucky enough to get.
Written by Simon Guerrier, this is a nice little character piece that sheds some more light on the strange hate/respect/hate relationship between the Third Doctor and the Master. It's set (unless I've missed my guess really badly) between The Curse of Peladon and The Sea Devils, and fills the gap between the two adventures in a clever, exciting and very satisfying way.
Museum Peace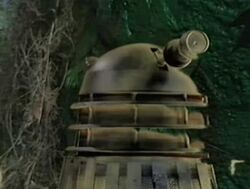 Like The Switching, this is another subscriber extra.

Written

by James Swallow, this one acts as a kind of epilogue to the Third Doctor adventure Planet of the Daleks (or at least, that's what it seems like to me!). Here we see the
Eighth
Doctor visiting
survivors
of the Dalek war that began (does this count as a spoiler?) at the end of the Planet of the Daleks. As with The Switching, this is a lovely, in places subtle piece of writing with some nice 'Doctory' touches, not to mention some brilliantly written scenes from the point of view of a most unexpected character...